LEGEND – Part 2: Invasion RESULTS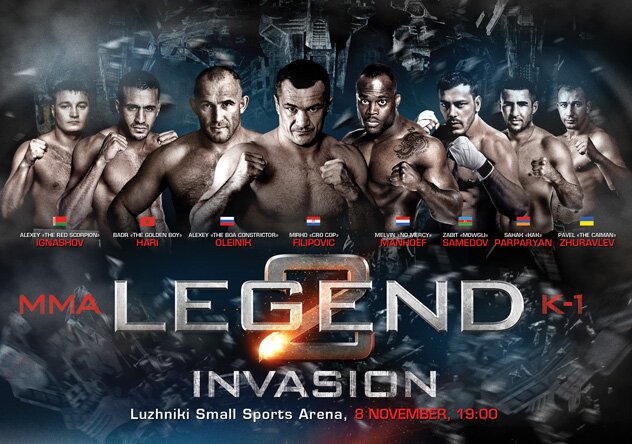 The second edition of the LEGEND Fighting Show was held on November 8 at the Luzhniki Minor Sports Arena. Among the 9 MMA and K-1 bouts the top event was the fight between the legendary Mirko CroCop Filipovic and Alexey Oleinik.
The two presenters of the show were Alexander Zagorodsky, the ring announcer, and Lenne Hardt, the legendary voice of PRIDE. Guests of honour of the night: UFC light heavyweight champion Jon Jones, UFC heavyweight contender Fabricio Werdum, ex-champions Frank Mir, Alistair Overeem and the legendary Russian fighter Fedor Emelianenko.
K-1 Grand Prix (-93 kg) with the prize money of $US 100,000: in the first semifinal Zabit Samedov defeated Melvin Manhoef. Despite the cut he received in the 3rd round, Zabit resumed the fight and won on points. In the second semifinal Ukrainian fighter Pavel Zhuravlev knocked out Sahak Parparyan (Armenia). In followup of the medical checkup Samedov was not allowed to take part in the final due to his injury. In the final Pavel Zhuravlev fought with Croatian Agron Preteni, the winner of the reserve fight, and knocked him out.
Sahak Parparyan vs Pavel Zhuravlev

Badr Hari defeated Alexei Ignashov on points. In the MMA fight Alexander Yakovlev from Russia defeated Paul Daley (England). Yakovlev won on points in one of the most spectacular fights of the night.
Paul Daley vs Alexander Yakovlev

In the main bout of the night Alexey Oleinik defeated Croatian Mirko Filipovic by submission (two weeks before the fight Oleinik replaced Alexander Emelianenko).
Alexey Oleinik vs Mirko Filipovic

Apart from the strong fightcard, the audience also watched the unprecedented show, with Transformers as the cover theme, showing the background story and invasion in Moscow – and in the Luzhniki arena. A SWAT team fast roped to the ring; similar to the first edition, there were no ring girls, instead, the round numbers were shown by girls on giant video screens. Unlike the first edition, the video clips were not as 'revealing', instead, they were tailored to the Transformers theme.
Results of the Legend 2
Anons of the Legend 2.
LEGEND Fighting Show Press Service http://legendashow.com/