The 3rd Edition of the LEGEND Fighting Show will take place on April 5 in Milan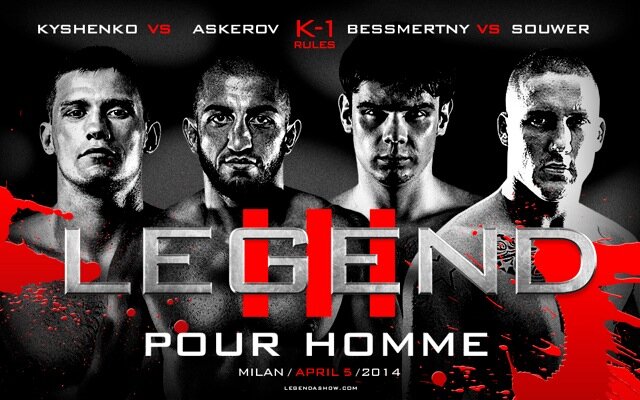 The tournament will get together the best world kickboxers in the weight class under 71 kg: Artur Kyshenko, Dzhabar Askerov, Enriko Gogokhia (representing Moscow Combat Sports Club No1), Muhammad Kamal, Yuri Bessmertny, and Andy Souwer. The fight card is being finalized right now.
Two super fights are also planned: two best Russian kickboxers, Artem Levin and Artem Vakhitov, will fight in the light-heavy and heavy weight classes. Their opponents will be announced shortly.
"Milan has been chosen for several reasons", says Ruslan Suleymanov, President of the LEGEND Fighting Show. "The Italian party have addressed us with an interesting proposal: to organize a joint tournament. Our partner is OKTAGON, an Italian company that has been operating in the market for over 15 years, conducting K-1, muay-thai, and MMA tournaments.
"From its inception the LEGEND has been targeted both at the Russian and European audiences. Moreover, it is the Old World where the TV audience rating was many times higher. We are directing our efforts to those locations where the tournament generates interest and meets with a ready market, without forgetting our own, Russian, fans.
"Our original aim was going abroad after the two Moscow tournaments. Milan is the second-most populous city in Italy, one of the European cultural and sports centers where kickboxing and muay-thai are quite popular. And, after all, we are responding to the wishes of the European audience. After its two editions the LEGEND has become recognizable in the world, with special interest developing in Europe, and we have immediately received invitations to different countries".
"Milan is also the fashion capital of Europe", adds Timur Soloviev, the Show producer. "It is a gorgeous, beautiful, and vibrant city. Before taking our choice we made an in-depth study of the fighting market in the European countries".
The Show programme is even more ambitious than ever. "The third LEGEND will also be loaded with surprises; however, if the latest one focused on special effects, for the next edition it will be the concept. We are challenging stereotypes – and this is going to be a provocation. Rise to it!" said Timur.
Among their guests of honor the organizers are expecting Giorgio Armani, the famous kickboxer Giorgio Petrosyan, and other celebrities.
The Show will be broadcast in all the European countries, and the Russian martial art fans will be able to follow it on one of the Russian TV channels.
© LEGEND Fighting Show official website legendashow.com
Твиты пользователя @Legendashow
Random, most relevant Flickr photo by legendashow
Cеминар Фабрисиу Вердум в Москве