On April 5 "LEGEND-III: Pour Homme" mega-show was held at the 10,000-seat Mediolanum Forum in Milan. The show included 7 K-1 fights, with the highlight bout between Murthel Groenhart from Holland and the Russian fighter Dzhabar Askerov.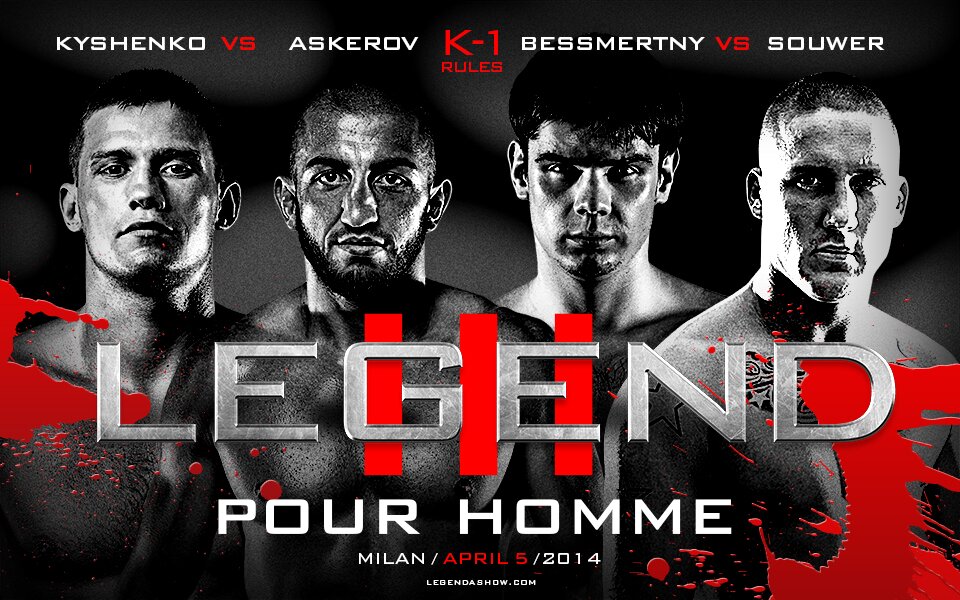 The show opened with the fashion parade of the tournament participants over an improvised catwalk intended, according to the organizers, to reflect the atmosphere reigning in Milan. The LEGEND show had two announcers: Marina Landi, an Italian TV star, and Lenne Hardt, the legendary voice of PRIDE. Guests of honor of the night: UFC knockouter Melvin Guillard, the legendary kickboxer Gago Drago, It's Showtime champion Sahak Parparyan, K-1 MAX two-time winner Giorgio Petrosyan, former UFC champion Frank Mir, UFC fighter Adlan Amagov, and Sam Kardan – President of Red Fury Fight Team and manager of the majority of Russian UFC fighters.
Legend-3 Шоу

In the main fight of the night Dutchman Murthel Groenhart, replacung Artur Kyshenko in the tournament, knocked out Dzhabar Askerov in the 1st round. Ukrainian Pavel Zhuravlev defeated Michal Turynski by unanimous decision; Turynski was a last-minute substitute for the injured Tomasz Szczepkowski. Andy Souwer flawlessly defeated young Yury Bessmertny from Belarus, and the Russian kickboxer Alexander Surjko lost via a 3rd round KO to Paul Daley. One of the most spectacular fights of the night featured Sittichai Sitsongpeenong from Thailand defeating Italian Mohamed Khamal. Alessandro Campagna was out of his luck when he was knocked out by Enriko Gogokhia in the 1st round, just as Armen Petrosyan who suffered his second defeat from the promising Ukrainian fighter Alim Nabiev.
Murthel Groenhart vs Dzhabar Askerovnew

According to Ruslan Suleymanov, President of the LEGEND Fighting Show, the organizers are satisfied with the work well-done, with all the plans accomplished.
The fights, with all their knockouts and knockdowns, were awesome. The arena was filled to capacity, and the atmosphere was so much full of energy. The outcome of the Askerov vs Groenhart fight was so dramatic and unexpected. Andy Souwer has demonstrated formidable technique. The fight between Paul Daley and Alexander Surjko was spectacular and dynamic. And, last but not least, the show and graphics elements received an ovation
, said Suleymanov.
Results of the LEGEND-III: Pour Homme Fighting Show
Alim Nabiev def. Armen Petrosyan – unanimous decision
Sittichai Sitsongpeenong def. Mohamed Khamal – unanimous decision
Enriko Gogokhia def. Alessandro Campagna - 1st round KO
Paul Daley def. Alexander Surjko - 3rd round KO
Andy Souwer def. Yury Bessmertny – unanimous decision
Pavel Zhuravlev def. Michal Turynski – unanimous decision
Murthel Groenhart def. Dzhabar Askerov - 1st round KO
Results of the Legend 3
Anons of the Legend 3
LEGEND Fighting Show Press Service legendashow.com
Твиты пользователя @Legendashow
Random, most relevant Flickr photo by legendashow
Badr Hari vs Zabit Samedov