The 3rd Edition of the LEGEND Fighting Show will take place on April 5 in Milan
The seven K-1-only bouts of the LEGEND-3 Tournament will be held on April 5 in Milan at Mediolanum Forum (Via G. Di Vittorio, 6), getting together the world's best kickboxers.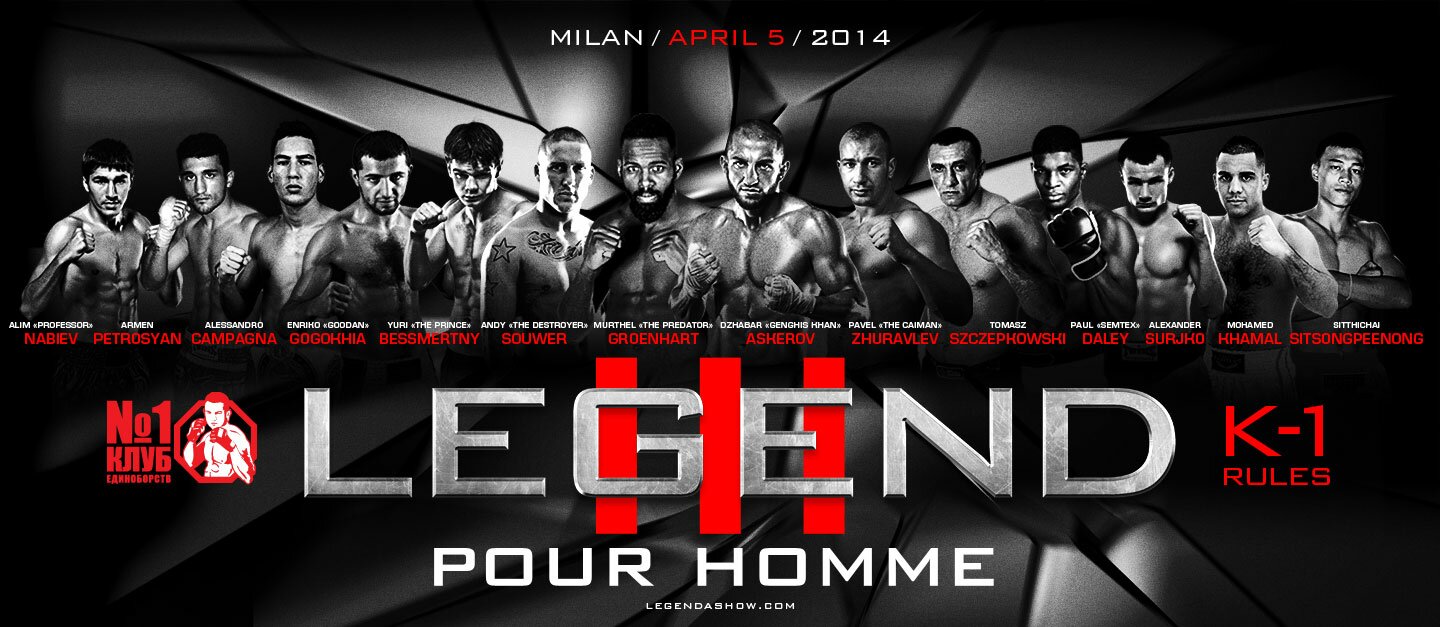 Ever since its inception the LEGEND has been targeted at both the Russian and European audiences. Moreover, it is the Old World where the TV audience rating has been much higher. The organizers choose those locations where the tournament generates interest and meets with a ready market, without forgetting their domestic fans.
"Milan has been chosen for several reasons", says Ruslan Suleymanov, President of the LEGEND Fighting Show. "The Italian party have addressed us with an interesting proposal: to organize a joint tournament. Our partner is OKTAGON, an Italian company that has been successfully operating in the market for over 15 years, conducting K-1, muay-thai, and MMA tournaments.
"Our original aim was going abroad after the two Moscow tournaments. Milan is the second-most populous city in Italy, one of Europe's cultural and sports centers where kickboxing and muay-thai are quite popular. And, after all, we are responding to the wishes of the European audience. After its two editions the LEGEND has won itself a name in the world, with special interest developing in Europe, and we have immediately received invitations to different countries".
LEGEND "PART 3: POUR HOMME" FIGHTING SHOW FIGHT CART, APRIL 5, 2014:
"Milan is a gorgeous, beautiful, and vibrant city", adds Timur Soloviev, the Show producer. "Before making our choice we made an in-depth study of the fighting market in the European countries. The Show programme is even more ambitious than ever. It's title, POUR HOMME, indicates its target audience, and we must also keep in mind that the LEGEND will take place in the capital of Italian fashion. We are challenging stereotypes – and it's going to be a provocation. Rise to it!" said Timur.
Among their guests of honor the organizers are expecting Giorgio Armani, the famous kickboxer Giorgio Petrosyan, Gago Drago, Mirko "CroCop" Filipovic, Frank Mir, and many other celebrities.
Let us recall that the first two editions took place in Moscow at the Luzhniki Minor Sports Arena getting together the best-known K-1 and MMA fighters: Fedor Emelianenko, Jon Jones, Alexander Gustafsson, Giorgio Petrosyan, Alistair Overeem, Frank Mir, Fabricio Werdum, Gago Drago, Mike Zambidis, Mirko Filipovic, Alexey Oleinik, and many others.
Fight card Ltgtnd-3 (eng)

LEGEND Fighting Show PR service legendashow.com
Твиты пользователя @Legendashow
Random, most relevant Flickr photo by legendashow
Cеминар Фабрисиу Вердум в Москве